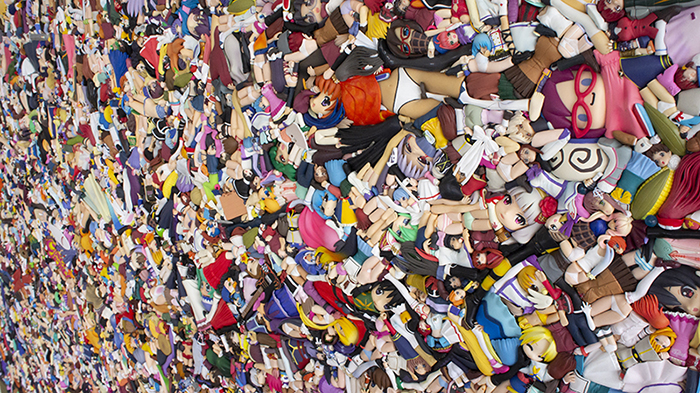 three
three is a magic number 13
2018.07.07 Sat - 2018.07.28 Sat
Opening Reception : July 7 , from 6pm
STANDING PINE is pleased to present a solo exhibition by a Japanese artist collective 'three' entitled 'three is a magic number 13' opening from Saturday 7th July. 'three' is an artist unit formed in 2009 from three young people based in Fukushima. They produce art pieces by using huge number of discretionary items such as figure dolls of cartoon or game characters. They are trying to create a visualisation of different kinds of aspect in the modern society, sometimes in an ironic way.

The centrepiece and unifying theme of this exhibition is the experience-based installation which represents outer boxes of figure dolls. All the exhibited artworks created from figure dolls are covered by white boxes and it is impossible for viewers to clearly see the artworks as their windows are fogged up even though they are supposed to be transparent. These boxes are created based in actual outer boxes of figure dolls, which are normally used when they are displayed in toy shops.

Viewers can see the artworks by putting stickers on the surface of fogged window in order to make it transparent. As the numbers of stickers getting increased and left day by day as if viewers' footprints or 'Like' buttons of SNS, the artworks themselves get visualised more clearly. Their frustration caused by not being able to see whole artworks are same as the situation that people cannot open boxes of commercial products sold in a shop. Following the ordinary scene of figure dolls sold in a shop, the artist raises awareness, feelings and questions of the issue regarding consumption and appreciation activity of artworks.

The artist mentions that "our artworks are 'figures' made by huge numbers of figure dolls of cartoon characters, of which resolution of identity as 'who they are' is decreased." Viewers could imagine 'what they would be' from a little information about their appearance such as posing and hairstyle of the artworks, that is to say, 'figures'. They are attracted by the stylistic beauty of contemporary characters formed from the difference of technique and some defective parts and its pleasure to understand the taste.

People have been seeking beauty by imagining an invisible part over missing parts and mosaic images for long. Imagination and thoughts are highly important in terms of appreciation. Nowadays, it is often seen that people are allowed to take a photo of artworks and share it with others and it becomes new standard even in high-art scene. Especially photogenic artworks. Fancy-looking ones tend to more often become an object for that. It is normal for people to consume and share its image and edit their own daily life. It fascinates them to imagine others from a part of edited daily life online and give feedback to themselves and vice versa. The more they post a part of their daily life, the clearer their online personality becomes. It is almost as if online characters created based on themselves and overlapping with figures of cartoon characters used in three's artworks.

Windows like a hole of Shoji (Japanese paper screen) and a gap between Fusuma (Japanese- style sliding door). It might be fun to peer into others from there or expose themselves. However, restricted windows in the exhibition could lead people to further imagination and thoughts by appreciating viewers' acts from its outside, otherwise, they could help people to consume images and establish their own online characters. A large number of windows created by viewers becomes holes to sift through them and reveal aspects of current society where people are trying to find their own identity. Through the exhibition, three's artworks invite viewers to reconsider uncertain relationship between production and consumption, and individuals and community.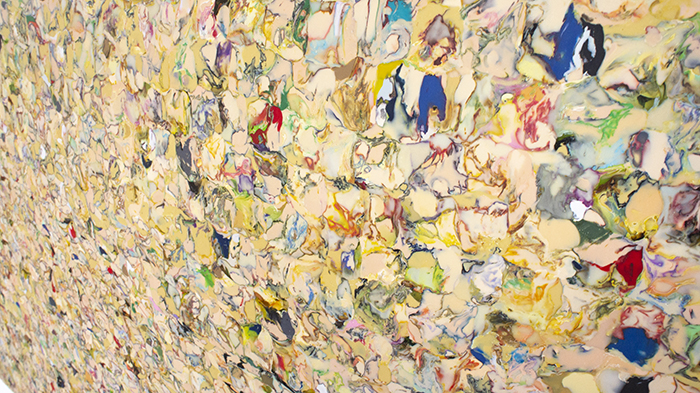 77V type 19.9kg / 2017 / Figure, Wood, Alumi, PVC / D9.5 × W169.7 × H95.5 cm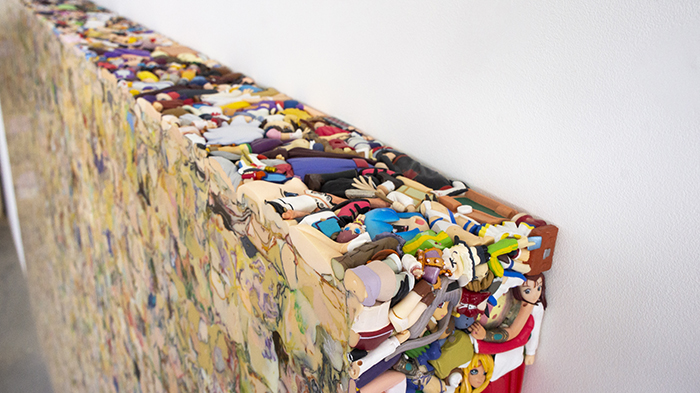 77V type 19.9kg / 2017 / Figure, Wood, Alumi, PVC / D9.5 × W169.7 × H95.5 cm