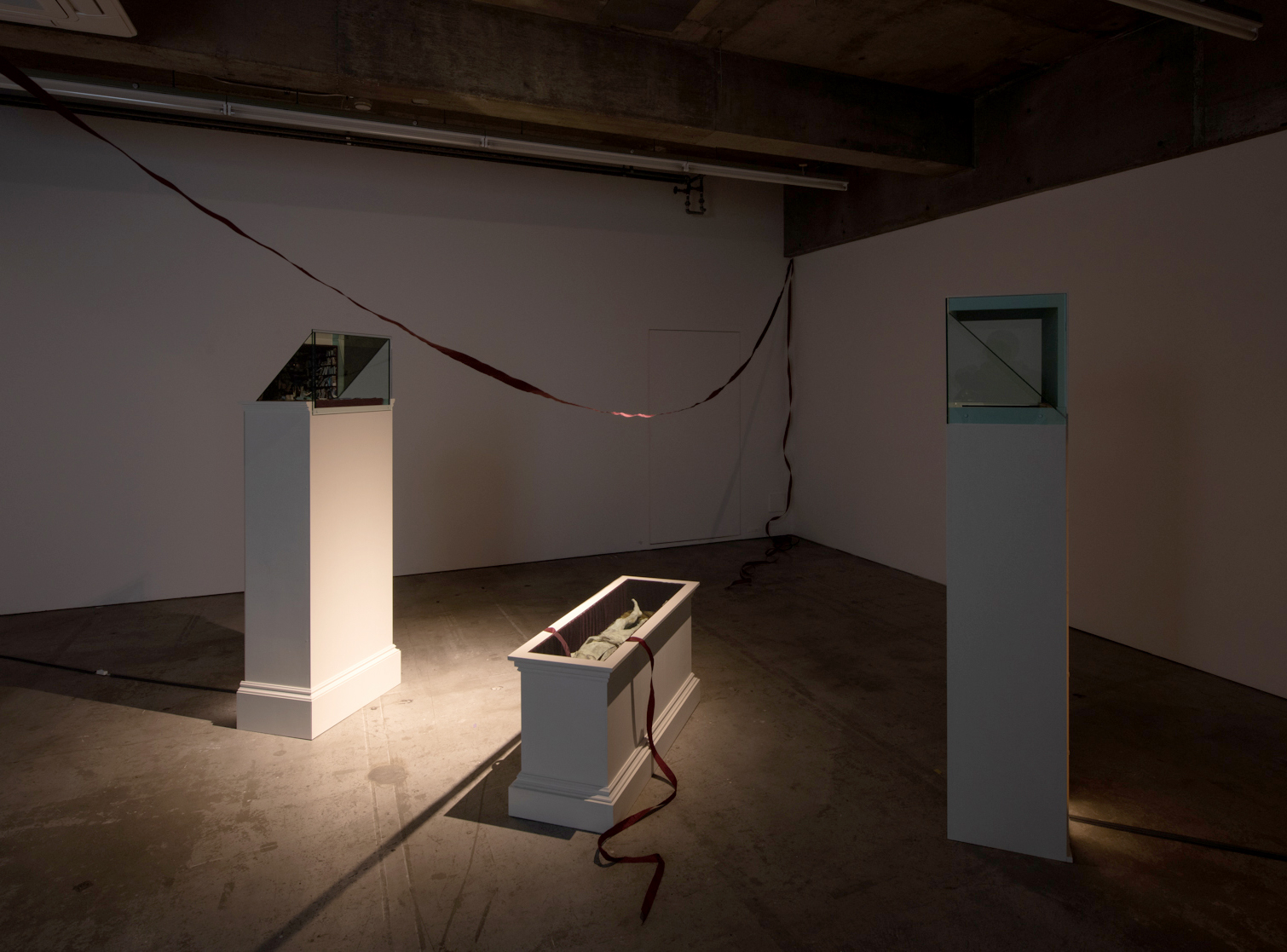 Kenji Sugiyama
Cell – Closed Chamber as Myself, Inside and Outside –
2018.12.01 Sat - 2018.12.22 Sat
Opening reception: 1st December, 6pm
STANDING PINE is pleased to present a solo exhibition of Kenji Sugiyama entitled 'Cell – Closed Chamber as Myself, Inside and Outside –'. Sugiyama was born in 1962 in Aichi and has been working on the series called 'I.I.M. Institute of Intimate Museums' since 1998. Imaginary museums and libraries precisely created by using visual tricks have been attracting people in the world. The centre piece of this exhibition is an installation composed of new three-dimensional works developed from the I.I.M series.

The title of the exhibition, 'Cell' is a word meaning 'a small enclosed space' and it also has various meanings including a small chamber, the small structural and functional unit of organism, a small group of people, tombs and so on. The gallery space is separated into two small rooms by means of curtain and Sugiyama's new works 'Outside' and 'Inside' are exhibited in each space. When viewers look into the frame of the works, there is a 'house' as a container for people in 'Outside' and the library of memories implying the inside humans' head in 'Inside'. As it is only possible for one person at a time to peer into the work, the work conjures up in the memories and imagination of the artist and the one, feeling integrated as a part of the artwork.

Additionally, there is a sculpture representing the artist himself on the border of these two rooms, dividing the space into the outside and the inside. The sculpture invites the audience to the room inside from the outside with a glassy look. The audience take a wander into Sugiyama's 'Cell' and they can peer into the head of Sugiyama from outside and enter into a world inside at the same time. The viewers looking into the works in the gallery space resonate with the dolls appearing in the Sugiyama's museum. The space forms a structure like Russian dolls and it evokes the feeling of unreality as if it continues forever without end.

Sugiyama keeps creating the archive of memories through imaginary museums and libraries. The act of looking produces the intimate connection with viewers one by one. It may reflect the connection with the people today supported by sharing their memories. A room piled up with memories, a unit of organism for memory and consciousness and the relationship between death and memory. A queer space recording Sugiyama's personal past calls up universal feelings over the memory of people.